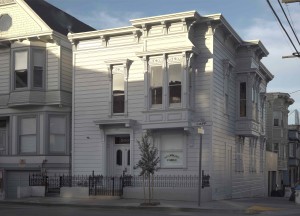 OPENING CELEBRATION AT THE DAVID IRELAND HOUSE
January 16, 2016, 11 a.m. to 6 p.m.
500 Capp Street, San Francisco
Explore David Ireland's site-specific masterpiece at 500 Capp Street in San Francisco's Mission district and experience more than 100 works by the late conceptual artist in the home's inaugural exhibition, on view through March 19, 2016. The day features timed tours led by local artists ($20; advance booking required – CLICK HERE TO BOOK YOUR TICKET).  From noon 3 p.m., non-ticketed visitors can drop by to catch live accordion music and food trucks, relax in the home's newly added outdoor terrace, picked up a limited-edition poster by The Thing Quarterly and a commemorative button by artist Bob Linder, and see live art performances by Southern Exposure (free and open to all).
LIVE ART PERFORMANCE
6 Block Scores
Presented by Southern Exposure
Saturday, January 16, 2016, noon to 6 p.m.
3030 20th Street, San Francisco; outdoors along 20th Street between Capp and Harrison Streets 
Southern Exposure joins the citywide tribute to David Ireland with three live durational performances in its main gallery and along 20th Street beginning at noon. Artists Kari Marboe, Minji Sohn, and Haegen Crosby respond to Ireland's work, highlighting the late conceptual artist's continued influence on younger Bay Area artists and his commitment to materials and process. Admission is free and open to all. Learn more.
CURATOR TALK (Sold Out)
Karen Tsujimoto
Presented by the David Ireland House
Saturday, January 16, 2016 at 7 p.m.
500 Capp Street, San Francisco
Curator and author Karen Tsujimoto, curator of The Way Things Are, the first full-scale travelling retrospective of David Ireland's work for the Oakland Museum of California in 2003, provides an insightful overview of the artist's accomplishments — from his drawings, sculptures, and site-specific installations to his remarkable series of architectural transformations, including his well-known house at 500 Capp Street in San Francisco. THIS EVENT IS SOLD OUT. Contact Jessica at 415.986.1571 with questions.