Join 500 Capp Street for our inaugural
BENEFIT AUCTION
Benefit Auction Party
October 13, 6:30pm

Silent Auction Open
September 26 – October 14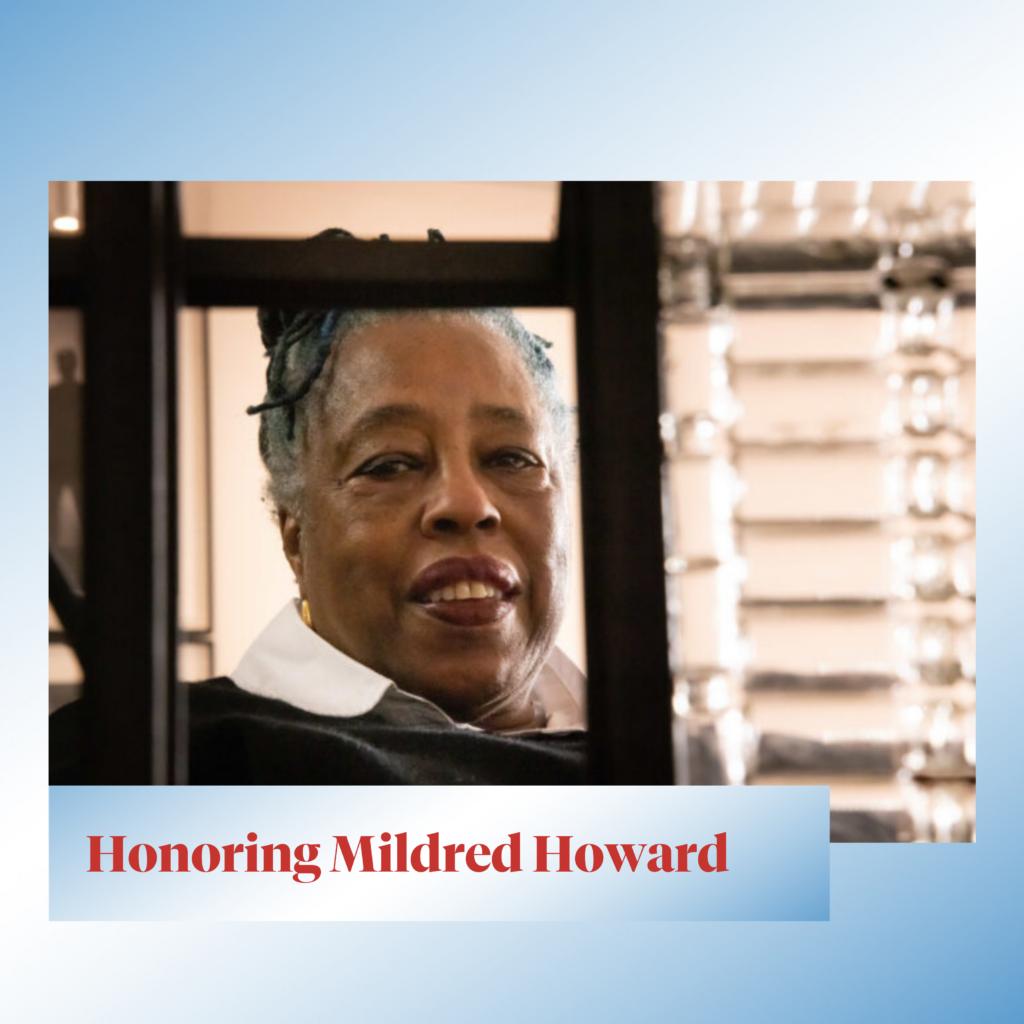 We are excited to honor Mildred Howard during 500 Capp Street's Inaugural Benefit Auction.
A key figure in the Bay Area art scene, Berkeley-based artist Mildred Howard is known for her stunning large-scale sculptural installations, public artworks, assemblage sculptures, and mixed media works.
Howard was a part of the Bay Area Conceptual art scene as an up-and-coming artist in the 70s and 80s. Howard and David Ireland share a common interest in the everyday and use light and time as tenants of their practice.
The two artists became long-lasting friends with an introduction through Ireland's role as Howard's graduate advisor. When visiting her graduate studio, Mildred states he would be put at ease as he had a deep respect for her practice, stating, "I can finally relax." He remained encouraging of her work with advice such as "get rid of the clutter" or "paint it out." The wisdom she learned from Ireland she still passes on to artists she mentors today. Howard credits Ireland as an inspiration for a selection of her works, including Skillet to the Flying Pan: Sitting Black (2007). Read more about Howard here.
BUY YOUR TICKETS
Don't miss your chance to participate in a lively evening with proceeds funding our exhibitions, programs, and educational workshops in the coming year. We can only continue to encourage artistic experimentation, support new modes of living, and build community with your support.
VIP Hour featuring
Salimatu Amabebe
To David Ireland, dining was everything. Join Amabebe (they/he) – a Nigerian American Chef, multimedia artist, and founder and director of Black Feast – for a special VIP Hour culinary event at the intersection of food and art.
---
Special performances by
Culinary delights by
Drinks by
PURCHASE TICKETS
---
Benefit Auction Party
5:30 PM – 6:30 PM – VIP Hour
6:30 PM – 8:30 PM – Festivities & Live Auction
8:30 PM – 10:00 PM – After Party
With special guest chefs, artists, and DJs
Tickets
$150 – Individual Ticket
$500 – VIP Ticket
Sponsorship Levels
$2,500 – Artist Steward
$5,000 – Education Partner
$7,500 – Community Builder
$10,000 – Creator
Purchase your ticket at 500cappbenefit.givesmart.com
Sponsorship packages include unique opportunities of support tailored to your interest. Contact Julianna Heller at julianna@500cappstreet.org to learn more.
---
Silent Auction
Open September 26 – October 14
Place your bids today by clicking the bid button at the top of this page.
Featuring Artwork and Experiences by
Saif Azzuz
Libby Black
Ajit Chauhan
Linda Connor
Rico Duenas
Ricki Dwyer
Ebti
Matt Goldberg
Ann Hatch
Nathan Lynch
Tom Marioni
Daniel Melo Morales
Jim Melchert
Jennie Ottinger
Gay Outlaw
J. John Priola
Rachelle Reichert
Eric Ruby
Amy Trachtenberg
Andy Vogt
Robert Wilhite
Michael Zheng
Minoosh Zomorodinia
---
Event Co-Chairs
David Wilson
Host Committee*
Drew Bennett
Phoebe Brookbank
Rebecca Camacho
Myles Danielsen
Joanne Easton
Amber Goldstein
Elena Gross
Hilary Hogan
Sophia Kinell
Viet Le
Amelia Manderscheid
Micki Meng
Azzurra Alliata di Montereale
Julie Norris
Laura Pacchini
Lauren Ryan
Ana Saygi
Sarah Wendell Sherrill
Kelsey Shell
Claudia Altman Siegel
Jessica Silverman
Adam Swig
Artist Stewards
Shawn Byers
---
Thank You to Our Sponsors!