Benefit Auction 2022
Honoring Mildred Howard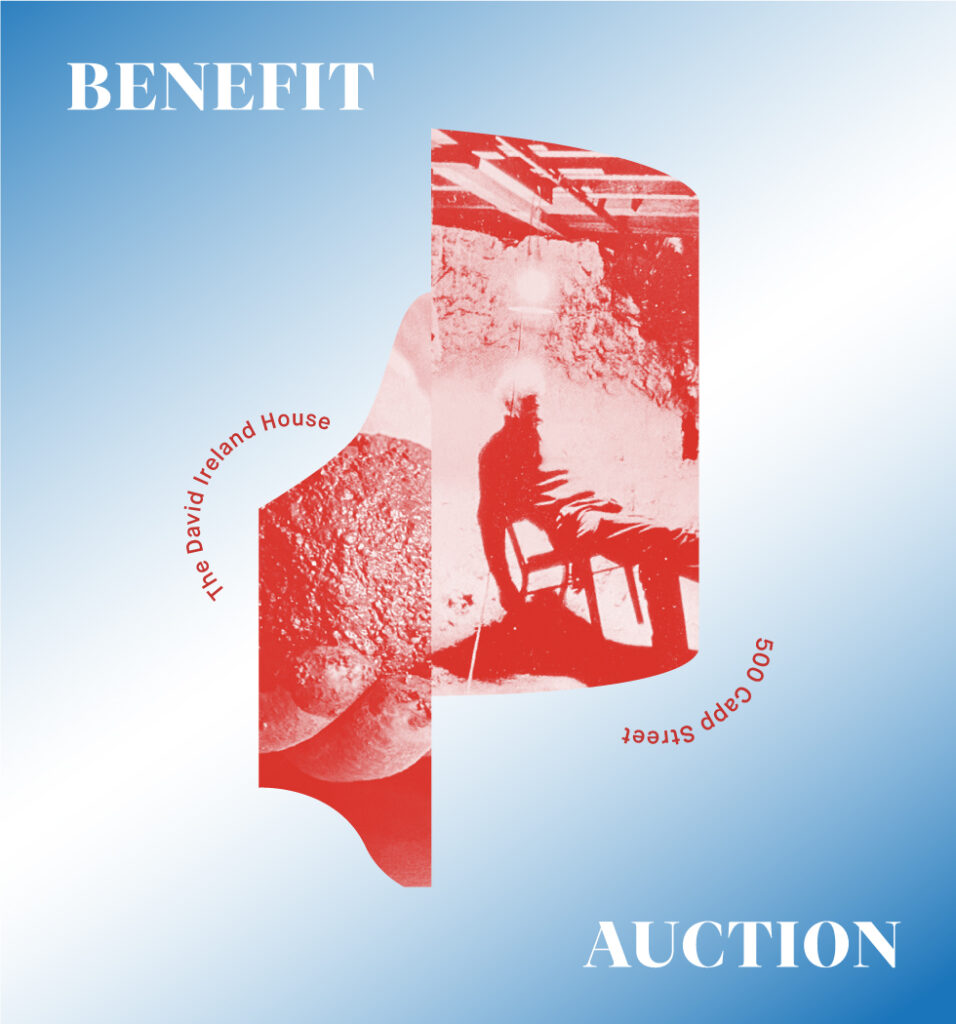 Attend the Benefit Party
Join 500 Capp Street for our first-ever Benefit Auction, supporting The David Ireland House's growing community of artists and innovative programming through a lively evening of food, drink, festivities, and a live and silent auction of artworks and experiences.
Proceeds directly support our mission to present exhibitions and educational programs celebrating David Ireland's artistic legacy, and host collaborative events to strengthen San Francisco's cultural community-bringing together artists, scholars, teachers, students, and the public-as Ireland's home did during his lifetime. All artists participating in the auction are offered up to 50% commission.
Benefit Auction Party
October 13th at 500 Capp Street
Silent Auction
September 26 – October 14
---
Benefit Auction Party
VIP Hour
5:30 – 6:30 PM
Featuring a culinary experience by Salimatu Amabebe
Festivities and Live Auction
6:30 – 8:30 PM
With special performances by
Culinary delights by
Miles Ake
Ryoji Kajikawa
Chef Coco
Drinks by
Fort Point Beer
Ghia
Marioni Wine
Music by
DJ Mare.E.Fresh (Chulita Vinyl Club)
After Party
8:30 – 10 PM
Tickets
$150 – Individual Ticket
$500 – Individual Ticket
Includes access to VIP hour with a culinary experience by Salimatu
Sponsorship Levels
$2,500 – Artist Steward
$5,000 – Education Partner
$7,500 – Community Builder
$10,000 – Creator

Silent Auction
September 26 – October 14
Featuring Artwork and Experiences by
Saif Azzuz
Libby Black
Ajit Chauhan
Linda Connor
Rico Duenas
Ricki Dwyer
Matt Goldberg
David Ireland x Ann Hamilton
David Ireland
Nathan Lynch
Tom Marioni
Daniel Melo
Jennie Ottinger
Gay Outlaw
J. John Priola
Rachelle Reichert
Eric Ruby
Ebti Shedid
Chanell Stone
Amy Trachtenberg
Andy Vogt
Robert Wilhite
Michael Zheng
Minoosh Zomorodinia
---
Thanks
We thank our Benefit Co-Chairs, Host Committee, and Sponsors for their support of this event.
Event Co-Chairs
PJ Gubatina Policarpio
David Wilson
Host Committee*
Drew Bennett
Phoebe Brookbank
Rebecca Camacho
Myles Danielsen
Joanne Easton
Amber Goldstein
Elena Gross
Hilary Hogan
Sophia Kinell
Viet Le
Amelia Manderscheid
Micki Meng
Azzurra Alliata di Montereale
Julie Norris
Laura Pacchini
Lauren Ryan
Ana Saygi
Sarah Wendell Sherrill
Kelsey Shell
Claudia Altman Siegel
Jessica Silverman
Adam Swig
* List in formation
Thank you to our benefit auction sponsors for your support!