A Palate Cleanser from the Outside World
by Sam Claude Carmel
September 15, 2020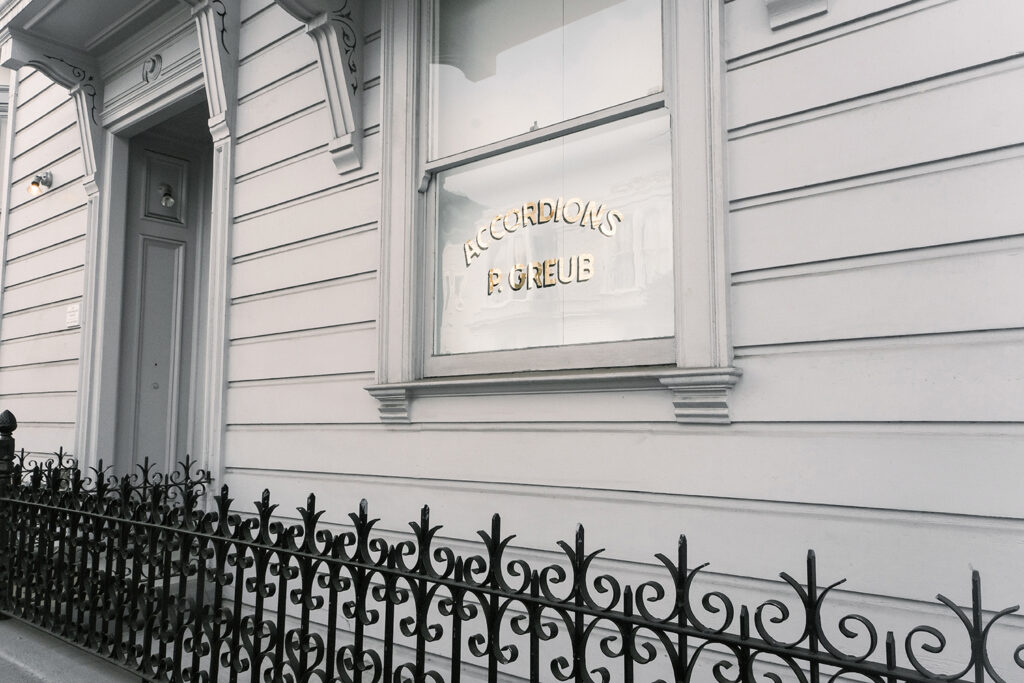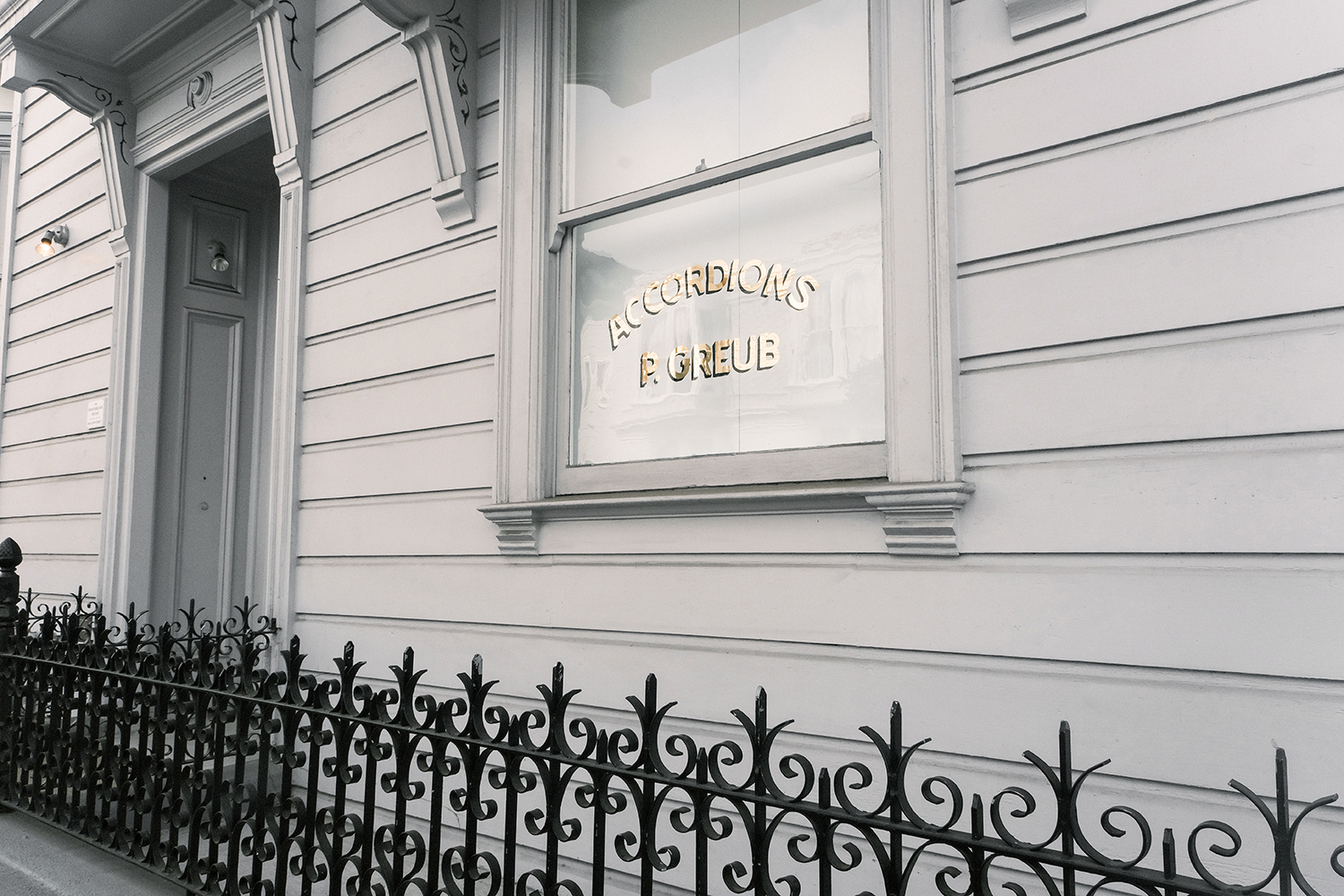 The Accordion Room at The David Ireland House is a working hybrid. It preserves the past in marks and evidence of prior inhabitants while also making space for new projects, installations, and perspectives. I'm dreaming of a space like this room as I have been living under quarantine as a result of Covid-19. I've learned from Ireland's practice that the home can be a source of inspiration for making work and that the actions of our daily lives indoors can inform our practice in wonderful and unexpected ways.
On the outside of the room's window a gold leaf advertisement reading "Accordions- P. Grueb" stands in for the prior owner. During Greub's time, this room was actually two. It bares the bones of Ireland's previous studio practice with paint splattered on the ancient linoleum flooring. A break in the material of the floor points to the past division of this space. In the open room, Greub had one corner for his shop where customers would enter and another for his work of repairing accordions. Customers would enter the side door on Twentieth Street to conduct their business, much like visitors to the house do now.
Another interesting and uncommon feature of this room is the fireplace. A rare find with it's original steel plate intact, seeing as most fireplaces from this period were melted down to build weapons and munitions during WWII. Ashes from past fires remain contained within, a discovery I once made after accidentally bumping the back plate from its hold. A projector hangs from the middle of the room surrounded by a crown molding medallion that has been moved onto the ceiling from a place that once held a light fixture.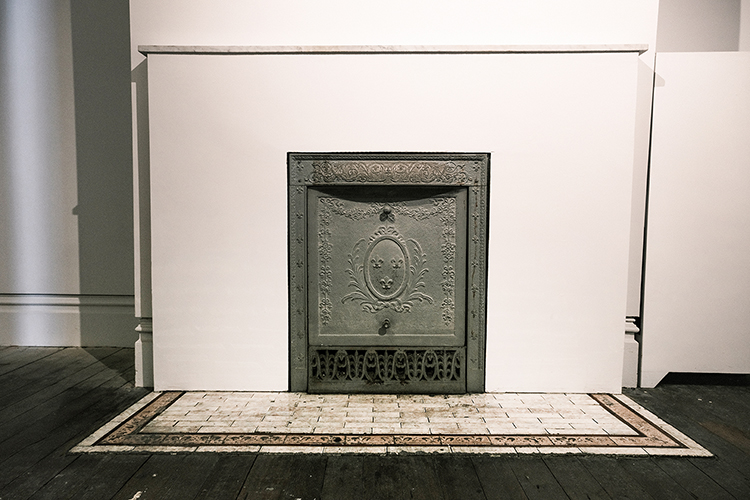 A liminal space, the Accordion Room acts as a palate cleanser from the outside world and allows for a fresh and open experience for the work inside the home. It is fitting for the first room that visitors enter today. Ireland kept this room as a private studio and it's inclusion in the house at 500 Capp Street was a deciding factor in his subsequent purchase of the home. Currently, and in previous ownership by Greub, the room functioned as an entrance, storefront and lobby. Acting now also as a white walled exhibition space commonly used by visiting artists, it offers the first taste of the revolving installations throughout the home.
The white walls in here differ from most in the rest of the house's warm amber polyurethane-colored walls. They are an inviting first entrance for investigation and experience. The Accordion Room leads visitors to their first task: to look carefully and critically at the marks and traces of the past while appreciating the new works and perspectives that it holds within.
To have the ability as Ireland did to use his house beyond the application of a studio and transform it into a living work of art is a desire I have held onto for some time, though out of my reach right now. Residing in a small apartment, I am learning to adapt my practice to be manageable indoors.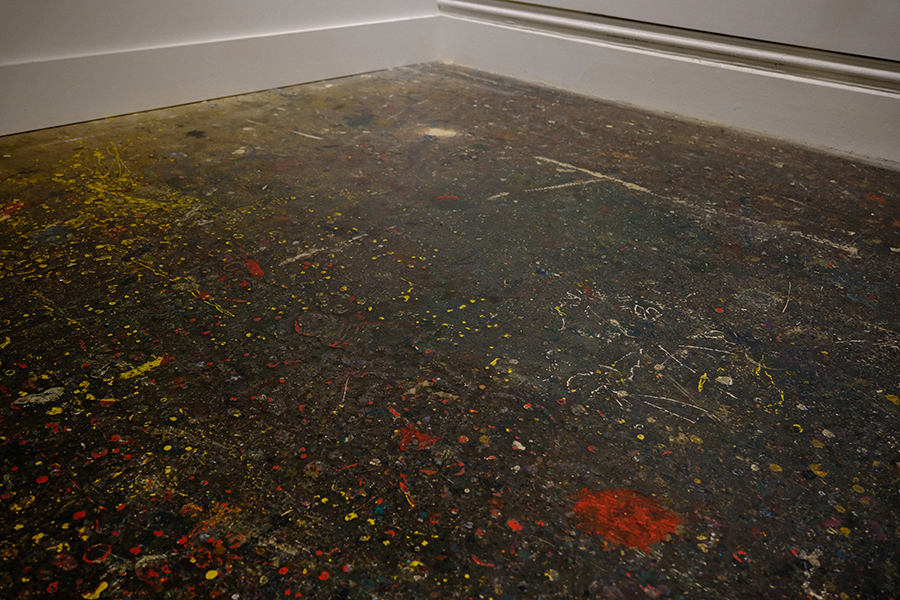 These days I'm drawing in the later hours of the evening as the bedroom of my apartment slowly shifts to a pixelated and grainy black. Transitioning to 2-D and digital forms of artmaking is my move in the midst of the Covid-19 crisis. In the darkness, I trace forms that I can barely see, letting the electric pulses of my brain illuminate their shape as I generate meaning and memories out of the illusive images taking shape on paper. I consider this practice to be a form of mining images, similar in a way to David's practice of excavating the dirt underneath his house at 500 Capp Street in a pursuit of material and meaning.
---
Sam Claude Carmel (They/Them) is a video installation and sculpture based artist residing in San Francisco, CA. Carmel graduated in 2019 with honors and a BFA in Queer Artist Studies from Mills College. Carmel works as an assistant video archivist and writer at TEXAS TOMBOY BRAND PROD and as an Artist Guide at The David Ireland House.
---