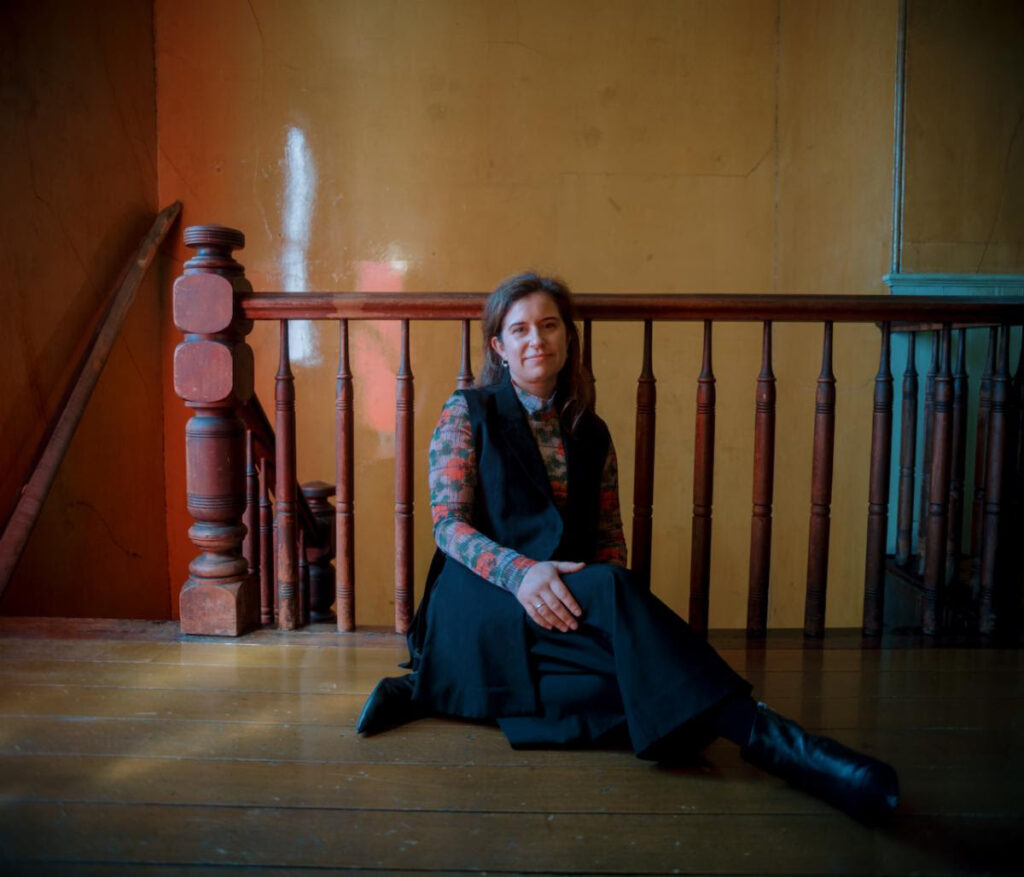 Dear Friends:
Since 2016, 500 Capp Street's Director Cait Molloy has been a generous and welcoming presence at the David Ireland House, enthusiastically sharing the space, the archive, and her knowledge and true love of both with all comers, from middle school students and visiting artists to supporters.
Cait was one of 500 Capp Street's first Artist Guides, then served as Visitor Service Manager for many years, and became Director in 2019, a position she is now leaving in order to pursue new cultural endeavors. We are all tremendously grateful to Cait for her always energetic and inspired leadership—steadfastly stewarding the organization through the uncertainty of the pandemic and, in its aftermath, embracing a bold vision to make the House an exuberant center for art and community.
Accessibility has been a priority during her tenure as Director. Working with the Board and staff, major initiatives were undertaken to make admission free for all; open the archive widely to students, scholars, and artists; and embrace meaningful partnerships and community engagement initiatives such as 500 Capp Street's outstanding youth education program developed with City Studio, connecting young people in the Mission District to the ideas and practice of conceptual art.
This spirit of openness has deeply informed Cait's work over the last four years to refine 500 Capp Street's mission and reorganize the institution to best support working artists. With her appointment of Lian Ladia as Curator of Exhibitions & Programs, Cait laid the groundwork for a new era of artist engagement as Lian shaped a dynamically collaborative program of artist-driven exhibitions and programs. With Cait's advocacy and support, the House and archive have become a living laboratory of artistic process, where artists, dancers, architects, and more have been given unprecedented access to 500 Capp Street's treasures, even living in the space for extended stays—something that would make most collection professionals blanch, but that David Ireland certainly would have loved.
So too has Cait built an expansive view of organizational practice, cultivating a team at the House that brings a collective ethos to leadership and management.
It has become, in fact, an organization that invites involvement. That is evident in the growing circles of support Cait has fostered and sustained with both individual donors and funding institutions.
We are so thankful for the lasting relationships and deep sense of community Cait leaves 500 Capp Street with as she wraps up her tenure April 7. Hers is an enduring legacy and one that our Interim Executive Director Jennifer Rissler will now have the opportunity to advance. Jennifer comes to 500 Capp Street with a wealth of knowledge and experience as both President of the College Art Association and as the former Chief Academic Officer of the San Francisco Art Institute. Please join us in welcoming Jennifer and expressing our deepest gratitude to Cait for all that she has accomplished at 500 Capp Street.
Most sincerely,
David Wilson, President