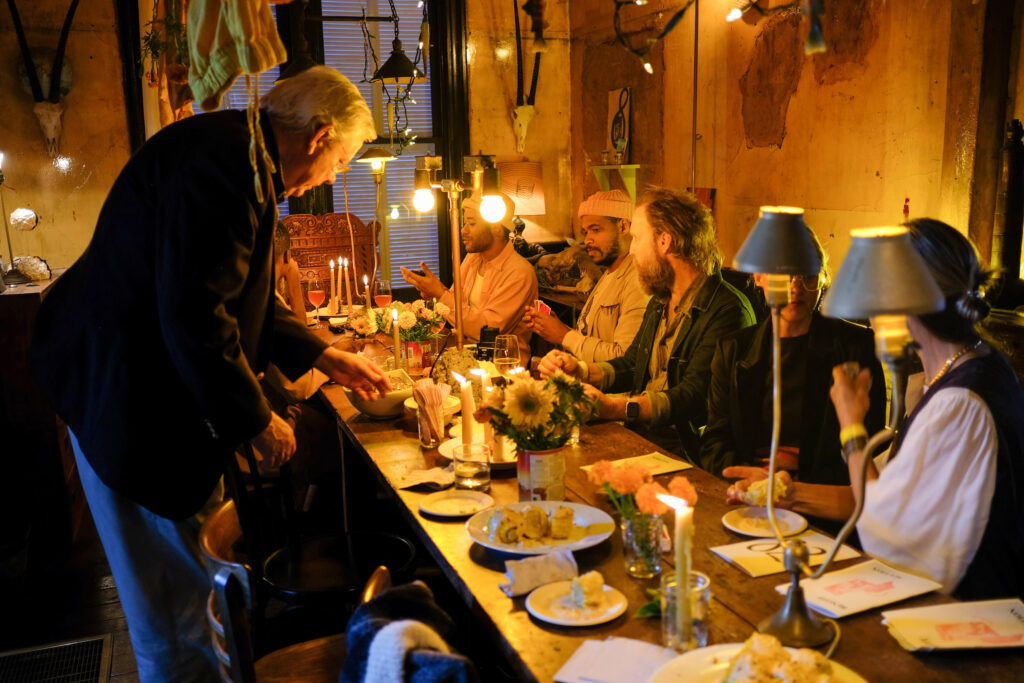 ---
a portal to what's possible and imaginable!
500 Capp Street's mission is to encourage artistic experimentation, support new modes of living, and build community— just as David Ireland did during his lifetime.
Join 500 Capp Street's vibrant community of artists, scholars, neighbors, and friends who shape its future! Every donation is vital to protecting this important cultural treasure and ensuring it remains an accessible space for ongoing artistic dialogue.
---
Giving Circles
Enhance your experience of 500 Capp Street by joining a Giving Circle. Your contribution ensures the House continues to grow as a dynamic contemporary art space for education, creation, and experimentation for generations to come.
Provide support while enjoying distinctive privileges and even greater access. For more information contact Cait Molloy at cait@500cappstreet.org
GROUNDBREAKER Giving Circle / $500+
You contribute to breaking the standard of inaccessible art spaces, by making 500 Capp Street an hub for neighbors, artists and the cultural community within and outside the Bay Area, by allowing us to offer free tours.
LIGHTKEEPER Giving Circle / $1,000+
You contribute to keeping our lights on so to speak, sustaining our daily operations, including supporting the artist-guide program, which provides mentorship and jobs to emerging and mid-career artists in the Bay-Area community who want to be involved in an organization.
KEYHOLDER Giving Circle / $3,000+
You hold the keys to contributing to our dynamic programming of emerging and mid-career artists, our research residency for local Bay Area Artists, and contribute to public programming and educational partnerships.
STABILIZER Giving Circle / $15,000+
You contribute to the stabilization of our foundation and significantly sponsor the funding of our full time and part-time staff. In addition, you support our fellowship program mentoring students and artists in partnership with the University of San Francisco. You fund projects that are about architecture, adaptive reuse, ecological impact and environmental sustainability to keep 500 Capp Street as a San Francisco heritage site. You also contribute to the upkeep and management of our collection and archives of Bay Area conceptual, contemporary art allowing artists and researchers continued access and inspiration.
For inquiries on donations contact Development Coordinator Rebecca Kaufman at rebecca@500cappstreet.org

Giving Circles 2022
STABILIZER
Gary Schefsky*
Suzanne Helmuth & Jock Reynolds
Kenneth Rainin Foundation
John Sanger
Anonymous
KEYHOLDER
David Wilson*
Peggy Peralta*
Kristina Willemse*
Dan Ake & Peggy Ingalls*
Anne Deveraux-Mills
Joshua Jenkins
Sarah & Stephen Sherrill
LIGHTKEEPER
Mary Valledor
Ann Hatch
Small Works*
Jerlyn Jareunpoon-Phillips*
Julie Norris
Roselyne Swig; in honor of Constance Lewallen
GROUNDBREAKER
John Yoyogi Fortes*
Rico Duenas*
Matthew Katsaros*
Victoria Shen*

Giving Circles 2021
STABILIZER
Dan Ake & Peggy Ingalls*
Suzanne Helmuth & Jock Reynolds
Carlie Wilmans
KEYHOLDER
Berger Family Foundation
Amy Berk*
Rico Duenas*
Evans Hankey & Brooke Lane
The Japan Foundation
Matt Rolandson & Sam Tripodi
John Sanger
Anonymous (2)
LIGHTKEEPER
Philip Anglim
Carla Emil
Dudley & Michael Del Balso
Randi & Bob Fisher
Fraenkel Gallery
Lexie Fisher George & Mark George
Ann Hatch
Mildred Howard
Kenneth Rainin Foundation
Kathy Klausner & Benni Strebel
Tom Loughlin
Jim Melchert
Gay Outlaw & Bob Schmitz
Eugene Whang
Anonymous
GROUNDBREAKER
Kristen Espinosa & Matthew Wright
Kristin Ingram
Kenneth Rainin Foundation
Paco Prieto
The Victorian Alliance of San Francisco
David Wilson
Anonymous
*In-kind donation
---
Join Our Newsletter
Join our Newsletter here!
---