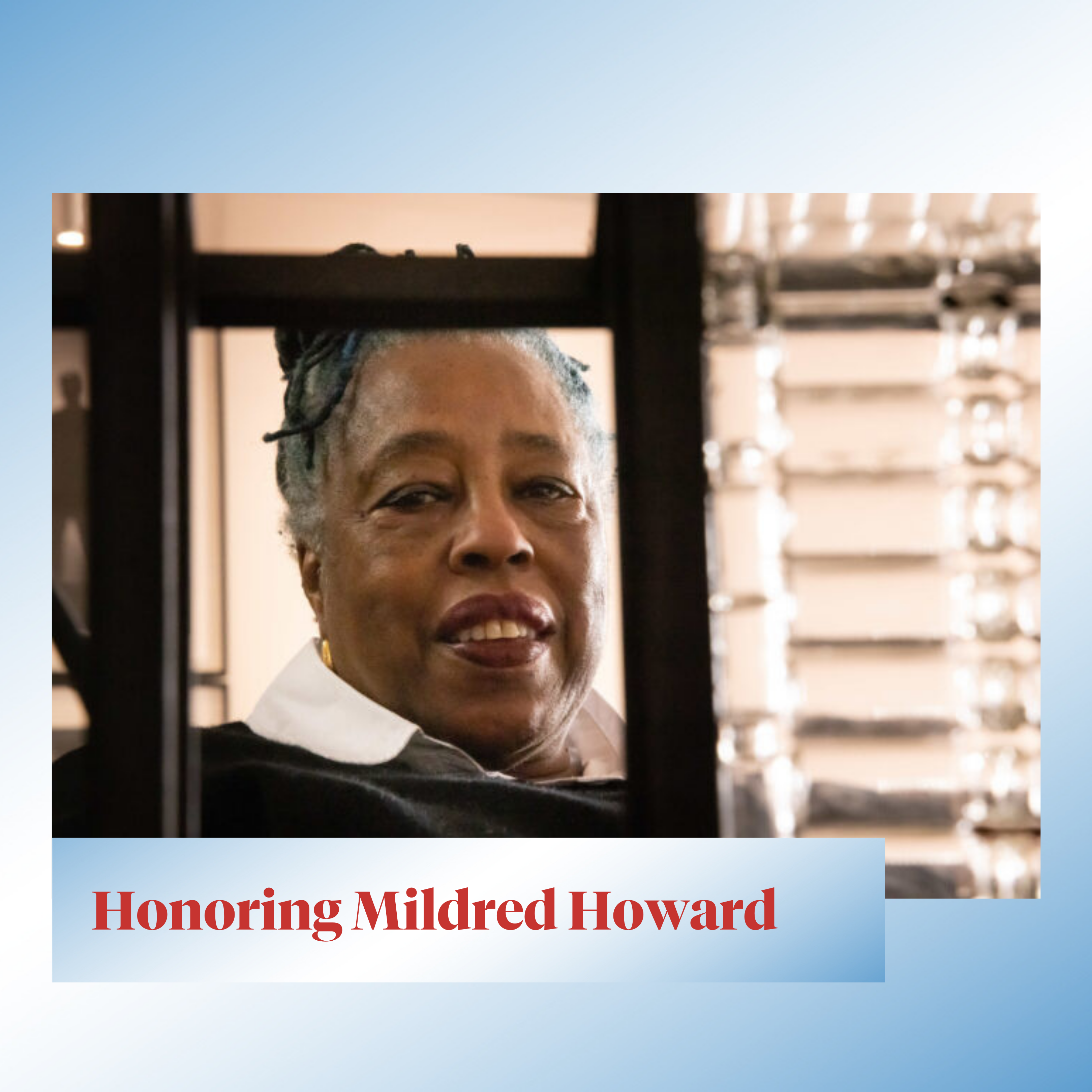 We are excited to honor Mildred Howard during 500 Capp Street's Inaugural Benefit Auction.
A key figure in the Bay Area art scene, Berkeley-based artist Mildred Howard is known for her stunning large-scale sculptural installations, public artworks, assemblage sculptures, and mixed media works.
Howard was a part of the Bay Area Conceptual art scene as an up-and-coming artist in the 70s and 80s. Howard and David Ireland share a common interest in the everyday and use light and time as tenants of their practice.
The two artists became long-lasting friends with an introduction through Ireland's role as Howard's graduate advisor. When visiting her graduate studio, Mildred states he would be put at ease as he had a deep respect for her practice, stating, "I can finally relax." He remained encouraging of her work with advice such as "get rid of the clutter" or "paint it out." The wisdom she learned from Ireland she still passes on to artists she mentors today. Howard credits Ireland as an inspiration for a selection of her works, including Skillet to the Flying Pan: Sitting Black (2007).
Howard's interest in changing the meaning of everyday objects has supported her multifaceted practice. In a 1994 artist talk at InSite in San Diego, she states that she enjoys "using things and everyday objects and changing the meaning of them." We see this manifested through her large-scale installations—transforming windows or bottles into artworks. She cites memory, music, dance, and literature as inspiration for her art.
Her poised visual language combined with the social themes of her work call for a sophisticated viewing experience. Her mixed media work is sharp and elegant. In her series The Magnolia Project (2007-2008), she uses buttons and pigmented ink to show recontextualized narratives of womanhood. She has mounted public installations in the Bay Area and beyond which include Frame in Bayview Hunters-Point, Three Shades of Blue (in collaboration with the poet, Quincy Troupe) on the Fillmore Street Bridge, Moving Richmond (with words by poet, novelist, and MacArthur Fellow Ishmael Reed) on the facade on the Richmond BART station, and The Music of Language on the Glide Memorial's family housing building in San Francisco, and A House That Will Not Stand For Any Color Other Than Its Own, in Battery Park, NYC.
Active in leading and inspiring her community for decades, Howard served as the director of Alice Waters' The Edible School Yard at Martin Luther King Middle School in Berkeley providing middle school-aged youth hands-on education in the garden and the kitchen with a focus on sustainable agriculture. She also developed a ciriculum integrating arts and science for the Exploratorium's Institute for Inquiry program. She has taught at universities Stanford and Brown, San Francisco Art Institute, and California College of the Arts. In 2018, she and her mother, Mable Howard were the focus of Welcome to The Neighborhood, a documentary that focuses on the effects of gentrification on a Black family in South Berkeley, CA. Howard is no stranger to the evolving socio-political, and artistic landscapes of the Bay Area, and uses her practice to create conversation around the futures of art, place, and society.
Howard received her MFA from John F. Kennedy University, (Orinda, CA) in 1985. She has been the recipient of the Adaline Kent Award (1991) from the San Francisco Art Institute, The Joan Mitchell Foundation award (2004), and The Lee Krasner Award for lifetime artistic achievement (2015), the Flintridge Foundation Award for Visual Art, and The NEA fellowship in sculpture. Her work has been exhibited locally and internationally. She has been the recipient of two Rockefeller Fellowships to Bellagio, Italy (1996, 2007), and has exhibited at Creative Time in New York, InSite in San Diego, CA, The Museum of Glass in Tacoma, and The National Museum of Women in the Art. She is represented by Parrasch Heijnen (Los Angeles, CA), Anglim/Trimble (San Francisco, CA), and Turner Carrol (Santa Fe, NM). Her exhibition The Time and Space of Now is currently being exhibited at the ICA San Jose through February 2023.