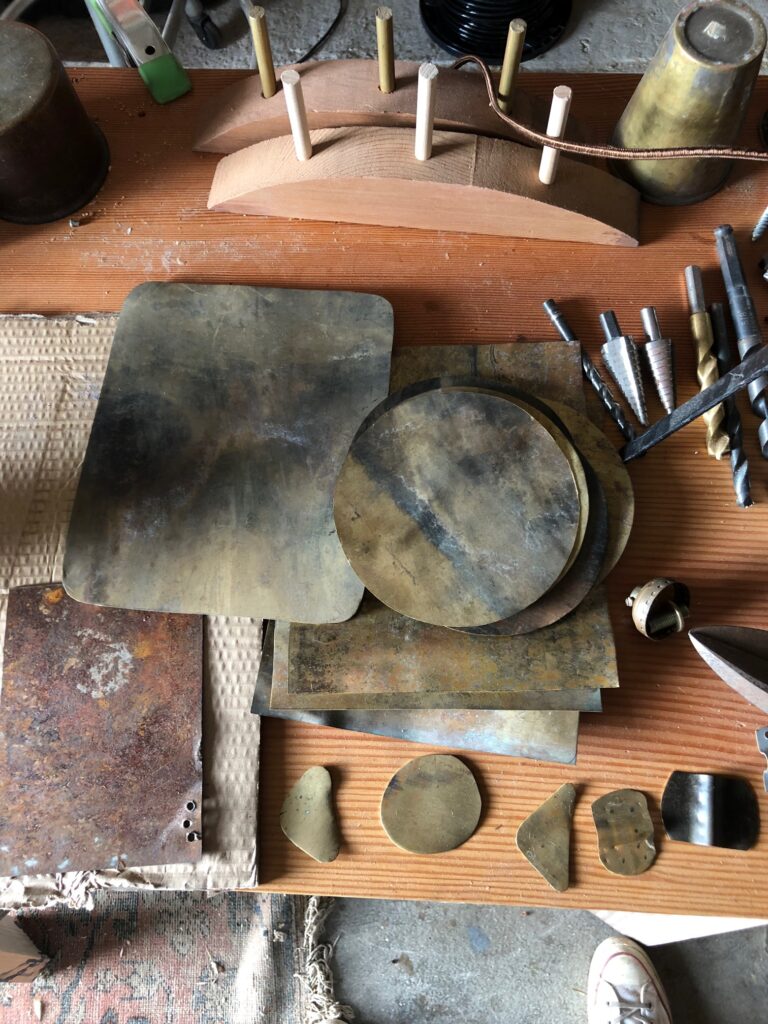 September 4 – 25, 2021
Lamp Workshop: Saturday September 25, 2pm-5pm
Light Repair Shop Garage: Saturdays from 12-5pm
The David Ireland House at 500 Capp Street is proud to present the work of artist and electrician , Rico Duenas. This September, The David Ireland House is inspired by the transformational power of light in a room and the implications of highlighting and staging stripped down everyday objects in an elevated view. David Ireland had the habit of creating lamps using utilitarian materials and tools like concrete, and copper pipes for plumbing. He would also light up certain angles of a space to highlight colors, and textures in an architectural space or an object. Duenas uses brass sheet metal, traditionally used for roofing, found cast iron, and found aged objects and magnifies its patina. Like Ireland, Duenas works with unassuming objects and construction materials to repurpose them into artworks.
David Ireland began his interest in art and art practice through industrial design and stage design. In several installation pieces, he would include a light fixture or a stage and light setup providing the elements of exposing a Brechtian fourth wall in reminding us that spatial mediations can provide you a different experience in lighting and staging the everyday.
Duenas intervention at The David Ireland House can be viewed from September 4-25, Wednesday to Saturday. Each Saturday, the Garage at the David Ireland House is transformed into a Light Repair Shop where Rico Duenas will set up shop to repair anyone's broken lamp. There will also be a scheduled Lamp Making Workshop scheduled for Saturday, September 25, 2-5pm. Tickets for this workshop will be released in the coming week.
Rico Duenas was born and raised in San Francisco. As a child, he spent time on the east coast with his grandfather, a sculptor and founding member of the Skowhegan School of Painting and Sculpture. In San Francisco he also often accompanied his father to flea markets and garage sales, where his father bought, fixed, and re-sold furniture. It was there where he was introduced to artist Kevin Randolph, who was repurposing lights, and quickly developed a love of lighting and sculpture. Rico instantly gravitated towards light and sculpture. He lives and works in San Francisco as an union electrician and artist.